EVERYONE Qualifies !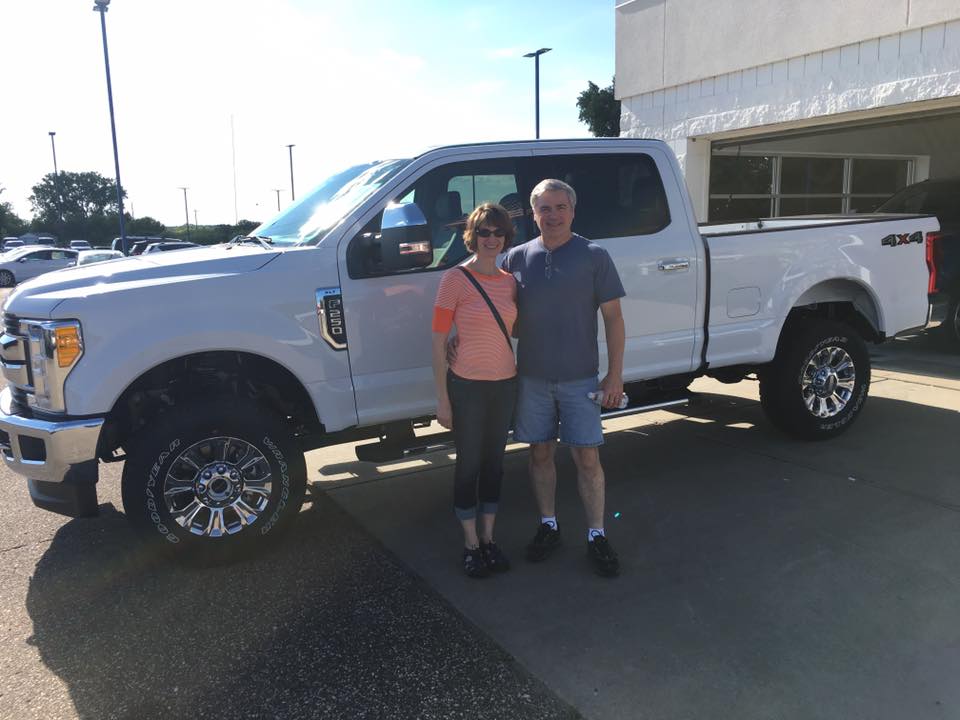 "A big thank you goes out to Rich & Whitney from Brit, MN. They made the 4 hour drive to Johnson Ford and purchased their new 2017 F-250 today. It was a pleasure to work with you both. 
- Landon Frey, Sales Consultant 
---
Thank you for your business!
Sold Date
Proud Owner's
First Name
Hometown/State


8/22/2017
Bruce
Black River Falls
WI
8/22/2017
Jerome
Somerset
WI
8/21/2017
Doug
New Richmond
WI
8/21/2017
Deborah
Rice Lake
WI
8/21/2017
Jason
Wyoming
MN
8/21/2017
Ronald
Ogilvie
MN
8/21/2017
Barbara
Amery
WI
8/21/2017
James
Boyceville
WI
8/18/2017
Tom
Byron
MN
8/18/2017
Mary
Fridley
MN
8/18/2017
Shelley
New Richmond
WI
8/17/2017
Steve
Osceola
WI
8/17/2017
James
Andover
MN
8/17/2017
John
Somerset
WI
8/17/2017
William
Amery
WI
8/17/2017
Sharon
Turtle Lake
WI
8/16/2017
Matthew
Glenwood City
WI
8/16/2017
Barbara
New Richmond
WI
8/16/2017
Kevin
Mankato
MN
8/16/2017
Amanda
River Falls
WI
8/15/2017
Douglas
Augusta
WI
8/15/2017
Steve
Woodville
WI
8/14/2017
Le Roy
Clear Lake
WI
8/14/2017
Eric
Stillwater
MN
8/12/2017
Michael
Rice Lake
WI
8/12/2017
Spencer
Richfield
MN
8/12/2017
Jake
Stillwater
MN
8/12/2017
James
Elko
MN
8/12/2017
Stephen
Woodville
WI
8/11/2017
Bryan
Osceola
WI
8/11/2017
Dennis
Roberts
WI
8/10/2017
Laura
New Richmond
WI
8/10/2017
Neal
New Richmond
WI
8/10/2017
Jean
New Richmond
WI
8/10/2017
Melanie
Hammond
WI
8/10/2017
Kelly
Hopkins
MN
8/10/2017
Brad
Stillwater
MN
8/9/2017
Matt
PLYMOUTH
MN
8/9/2017
Karl
Somerset
WI
8/9/2017
James
Amery
WI
8/8/2017
Carol
New Richmond
WI
8/8/2017
Whitney
Luck
WI
8/8/2017
Wayne
Hudson
WI
8/7/2017
Richard
St Paul
MN
8/7/2017
Amber
New Richmond
WI
8/7/2017
Owen
Rice Lake
WI
8/7/2017
James
New Richmond
WI
8/7/2017
Anna
New Richmond
WI
8/7/2017
Richard
New Richmond
WI
8/7/2017
Christina 
New Richmond
WI
8/7/2017
Joyce
Amery
WI
8/5/2017
Joe
Stillwater
MN
8/5/2017
Alan
Duluth
MN
8/5/2017
Noreen
Hudson
WI
8/5/2017
Brian
Somerset
WI
8/4/2017
Chad
New Richmond
WI
8/4/2017
Todd
Durand
WI
8/4/2017
John
New Richmond
WI
8/4/2017
Nate
Woodbury
MN
8/4/2017
Donald
Hudson
WI
8/4/2017
Dale
Erin
WI
8/3/2017
James
New Richmond
WI
8/3/2017
Shannon
Amery
WI
8/3/2017
Burgee
New Richmond
WI
8/3/2017
Ricky
Hertel
WI
8/3/2017
Wallace
Clayton
WI
8/3/2017
Kylee
Somerset
WI
8/3/2017
Ken
New Richmond
WI
8/3/2017
Stephanie
New Richmond 
WI
8/3/2017
John
Farmington
MN
8/3/2017
Rebecca
New Richmond 
WI
8/3/2017
Steve
New Richmond
WI
8/2/2017
James
Brooklyn Park
MN
8/2/2017
Ashley
New Richmond
WI
8/2/2017
Donald
Prentice
WI
8/1/2017
Hiram
Arkansaw
WI
7/31/2017
Jeff
Oakdale
MN
7/31/2017
Martin
Centerville
MN
7/31/2017
Trevor
New Richmond
WI
7/31/2017
Gregory
New Richmond
WI
7/31/2017
Renee
Woodbury
MN
7/29/2017
Jennifer
Blaine
MN
7/29/2017
Laura
New Richmond
WI
7/29/2017
Jeffrey 
Rowley
IA
7/29/2017
Rebecca
Baldwin
WI
7/29/2017
Alexandra
New Richmond
WI
7/29/2017
Mathew
Barron
WI
7/28/2017
Joshua
Roberts 
WI
7/28/2017
Robert
Rice Lake
WI
7/28/2017
Samuel
Colby
WI
7/28/2017
Carri
White Bear Lake
MN
7/28/2017
Craig
Stacy
MN
7/28/2017
Lori
Webster
WI
7/28/2017
Michael
New Richmond
WI
7/27/2017
Steven
New Richmond
WI
7/27/2017
Krista
Hudson
WI
7/27/2017
Michael 
Rosemount
MN
7/27/2017
Melanie
Monticello 
MN
7/27/2017
Jerry
New Richmond
WI
7/26/2017
Karen
Chisago City
MN
7/26/2017
Shannon
Osceola
WI
7/26/2017
Sara
New Richmond
WI
7/26/2017
Viola
Milltown
WI
7/26/2017
Adolph
Osceola
WI
7/26/2017
Warren
Star Prairie
WI
7/25/2017
CITY OF NEW RICHMOND
New Richmond
WI
7/25/2017
Jacilyn
Hudson
WI
7/25/2017
Wayne
Sarona
WI
7/25/2017
Charles
New Richmond
WI
7/25/2017
Timothy 
Clear Lake 
WI
7/24/2017
Laverne
Birchwood
WI
7/24/2017
Molly
Eau Claire
WI
7/24/2017
Michael
Stacy
MN
7/24/2017
Ronald
Balsam Lake
WI
7/22/2017
Mary
Glenwood City
WI
7/22/2017
Marcus
Milltown
WI
7/21/2017
Arlo
Taylors Falls
MN
7/21/2017
Tyler
New Richmond
WI
7/21/2017
Susan
Saint Croix Falls
WI
7/21/2017
Jason
Roberts 
WI
7/21/2017
Duane
Hudson
WI
7/21/2017
Michael
New Richmond
WI
7/21/2017
Steven
New Richmond
WI
7/21/2017
William
Downing
WI
7/20/2017
Janet
Washburn
WI
7/20/2017
Amy
Osceola
WI
7/20/2017
Richard
Albuquerque
NM
7/18/2017
Ryan
Osceola
WI
7/18/2017
Joseph
Somerset
WI
7/18/2017
Randy
Hayward
WI
7/18/2017
Shannon
New Richmond
WI
7/18/2017
Shirley
Amery
WI
7/18/2017
Shawn
Saint Charles
MN
7/18/2017
Ellen
Woodville
WI
7/18/2017
Joyce
Cumberland
WI
7/17/2017
Ione
Osceola
WI
7/17/2017
Darren
New Richmond
WI
7/17/2017
Sadie
Clayton
WI
7/17/2017
Rhonda
Sheldon
MO
7/15/2017
Christopher
Woodbury
MN
7/15/2017
Kenneth
Chippewa Falls
WI
7/15/2017
Myra
Inver Grove Heights
MN
7/15/2017
Linda
New Richmond
WI
7/15/2017
Larry
Otsego
MN
7/15/2017
Donald
Deer Park
WI
7/15/2017
Sherri
New Richmond
WI
7/15/2017
Sara
Almena
WI
7/15/2017
Jackie
New Richmond
WI
7/15/2017
Andrew
Baldwin
WI
7/14/2017
Janet
Washburn
WI
7/14/2017
Timothy
Luck
WI
7/14/2017
Laura
New Richmond
WI
7/14/2017
Todd
Amery
WI
7/14/2017
Steven
New Richmond
WI
7/13/2017
Anna
Hayward
WI
7/13/2017
Sheila
Osceola
WI
7/13/2017
Laura
New Richmond
WI
7/13/2017
Adam
Amery
WI
7/13/2017
Duane
Prairie Farm
WI
7/12/2017
Amanda
Baldwin
WI
7/12/2017
Charles
New Scandia
MN
7/12/2017
Kathryn
NEW RICHMOND
WI
7/11/2017
Heather
New Richmond
WI
7/11/2017
Frontier
New Richmond
WI
7/10/2017
Mark
Martell
NE
7/10/2017
Kevin
New Richmond 
WI
7/10/2017
Steve
Burnsville
MN
7/10/2017
Kevin
Menomonie
WI
7/10/2017
Maria
New Richmond
WI
7/10/2017
Alfred
New Richmond
WI
7/10/2017
James
Amery
WI
7/8/2017
Jeri
Amery
WI
7/8/2017
Kayla
Houlton
WI
7/8/2017
Brett
Dakota
MN
7/8/2017
Sara
Somerset
WI
7/8/2017
David
New Richmond
WI
7/8/2017
Katy
Cameron
WI
7/7/2017
Dave
Luck
WI
7/7/2017
Derek
Clayton
WI
7/7/2017
Amber
New Richmond
WI
7/7/2017
Nathan
Apple Valley
MN
7/7/2017
Jason
New Richmond
WI
7/7/2017
Kelly
Osceola
WI
7/6/2017
James
Star Prairie
WI
7/5/2017
Eric
Hudson
WI
7/5/2017
Jennifer
Glenwood City
WI
7/5/2017
Jestina
Carlton
MN
7/5/2017
Sherri
River Falls
WI
7/3/2017
Eldon
Deer Park
WI
7/3/2017
Mark
Bloomer
WI
7/3/2017
James
Millville
MN
7/3/2017
Steven
Hugo
MN
7/3/2017
Joseph
Osceola
WI
7/3/2017
Lynn
Stillwater
MN
7/3/2017
Lisa
Osceola
WI
7/1/2017
Patrick
Muscatine
IA
7/1/2017
Joni
Amery 
WI
7/1/2017
Michelle
Elmwood
WI
6/30/2017
Taylor
Duluth
MN
6/30/2017
Adam
New Richmond
WI
6/30/2017
Thomas
Clear Lake
WI
6/30/2017
Steve
New Richmond
WI
6/29/2017
Raymond
New Richmond
WI
6/29/2017
Jill
New Richmond
WI
6/29/2017
Lois
New Richmond
WI
6/29/2017
Gerrit
New Richmond
WI
6/28/2017
George
Houlton
WI
6/28/2017
Paul
Clayton
WI
6/28/2017
Bobby
Alamo 
TX
6/27/2017
Lee
Osceola
WI
6/27/2017
Lois
New Richmond
WI
6/27/2017
Shannon
Somerset
WI
6/26/2017
Brandon
Saint Cloud
MN
6/26/2017
Adam
Somerset
WI
6/26/2017
Christopher
Pequot Lakes
MN
6/26/2017
Lucas
Hager City
WI
6/26/2017
Shelly
Inver Grove Heights
MN
6/24/2017
Lori
Wilson
WI
6/24/2017
Timothy
Elroy
WI
6/24/2017
Megan
Somerset
WI
6/24/2017
Mark
River Falls
WI
6/24/2017
William
New Richmond
WI
6/24/2017
Jackelyn
Prescott
WI
6/24/2017
Michael
Roberts
WI
6/24/2017
Kara
Stillwater
MN
6/24/2017
Shaun
New Richmond
WI
6/23/2017
Jeffry
Crystal
MN
6/23/2017
Jacob
New Richmond
WI
6/23/2017
Kevin
Lake Elmo
MN
6/23/2017
Ryan
Elk River
MN
6/23/2017
Michael
Balsam Lake
WI
6/23/2017
Daniel
River Falls
WI
6/23/2017
Cassandra
Webster
MN
6/23/2017
David
Arden Hills
MN
6/23/2017
Deborah
Andover
MN
6/22/2017
Nathan
Washburn
WI
6/22/2017
Shannon
Menomonie
WI
6/22/2017
Amy
Woodbury
MN
6/22/2017
Terry
Wilson
WI
6/22/2017
Steven
New Richmond
WI
6/22/2017
Kateri
New Richmond
WI
6/22/2017
Kateri
New Richmond
WI
6/22/2017
Scott
Brainerd
MN
6/22/2017
Rusty
Star Prairie
WI
6/21/2017
Candice
North Branch
MN
6/21/2017
Christopher
New Richmond
WI
6/21/2017
Dawn
Eagan
MN
6/21/2017
Dakota
West St Paul
MN
6/21/2017
Lois
New Richmond 
WI
6/21/2017
Donna
New Richmond
WI
6/21/2017
Gerald
New Richmond
WI
6/21/2017
Albert
Spring Valley
WI
6/20/2017
Dale
Marine on St Croix
MN
6/20/2017
Maggie
New Richmond
WI
6/20/2017
Jacob
Taylors Falls
MN
6/20/2017
BARBARA
Osceola
WI
6/20/2017
Laken
Boyceville
WI
6/20/2017
Glenda
Saint Croix Falls
WI
6/19/2017
Andrew
Hager City
WI
6/19/2017
Geraldine
Saint Croix Falls
WI
6/19/2017
Andrew
New Richmond
WI
6/19/2017
Adam
Almena
WI
6/19/2017
Jodi
Lindstrom
MN
6/19/2017
Laurel
Osceola
WI
6/19/2017
Colleen
Hudson
WI
6/17/2017
Royce
New Richmond
WI
6/17/2017
Pat
Plymouth
MN
6/17/2017
Anthony
Stillwater
MN
6/17/2017
Jayson
Clear Lake
WI
6/17/2017
Arlene
Mauston
WI
6/17/2017
Martin
New Auburn
WI
6/17/2017
Teddie
River Falls
WI
6/17/2017
Destiny
River Falls
WI
6/17/2017
Warren
Cameron
WI
6/17/2017
Amanda
Hatley
WI
6/16/2017
William
Shell Lake
WI
6/16/2017
Amber
Minneapolis
MN
6/16/2017
Taren
Hudson 
WI
6/16/2017
Paul
Star Prairie
WI
6/16/2017
Heather
New Richmond
WI
6/16/2017
Kevin
Luck
WI
6/15/2017
Laurie
New Richmond
WI
6/15/2017
Gregory
Beldenville
WI
6/14/2017
Gary
Dresser
WI
6/13/2017
Boldts Plumbing
Baldwin
WI
6/10/2017
Josh
Eau Claire
WI
6/10/2017
Brad
Eau Claire
WI
6/10/2017
Tom
Roberts
WI
6/10/2017
Brenda
New Richmond
WI
6/10/2017
Alan
Amery
WI
6/10/2017
Ryan
New Richmond
WI
6/10/2017
Cynthia
Amery
WI
6/10/2017
James
New Richmond
WI
6/9/2017
Troy
Amery
WI
6/8/2017
Martin
Eau Galle
WI
6/8/2017
Nathan
New Richmond
WI
6/8/2017
Jonna
Osceola
WI
6/8/2017
Jody
Clear Lake
WI
6/8/2017
Allan
Forest Lake
MN
6/8/2017
Stacy
Clayton
WI
6/8/2017
Terry
Clear Lake
WI
6/8/2017
Byron
Amery
WI
6/7/2017
Mary
Lake Elmo
MN
6/7/2017
Frank
Hudson
WI
6/6/2017
Derick
New Richmond
WI
6/6/2017
Marshal
Emerald
WI
6/5/2017
Kelly
New Richmond
WI
6/5/2017
Anne
Somerset
WI
6/5/2017
Charley
Farmington
MN
6/5/2017
Kurt
Osceola
WI
6/5/2017
Thomas
New Richmond
WI
6/5/2017
Andrew
Amery
WI
6/5/2017
Don
New Richmond
WI
6/3/2017
Catherine
Clayton
WI
6/3/2017
Jacilyn
Hudson
WI
6/3/2017
Marin
Somerset
WI
6/3/2017
Ralph
Hudson
WI
6/3/2017
Brian
New Richmond
WI
6/2/2017
Debbie
Somerset
WI
6/2/2017
Russell
Somerset
WI
6/2/2017
David
Roberts
WI
6/1/2017
Antonio
Cottage Grove
MN
6/1/2017
Kelly
Hammond
WI
5/31/2017
Miranda
Ranier
MN
5/31/2017
Sheryl
New Richmond
WI
5/31/2017
Linda
Hinckley
MN
5/30/2017
Pamela
Hammond
WI
5/27/2017
Donnie
Wichita Falls
TX
5/27/2017
Debbie
Stillwater
MN
5/27/2017
Martin
Hastings
MN
5/27/2017
Lance
Wausau
WI
5/27/2017
Michelle
Deer Park
WI
5/27/2017
Bonnie
New Richmond
WI
5/27/2017
Robert
Hammond
WI
5/27/2017
Patricia
Baldwin
WI
5/27/2017
Kimberly
River Falls
WI
5/26/2017
Tyler
Osceola
WI
5/26/2017
Shari
Cottage Grove
MN
5/26/2017
Patricia
New Richmond
WI
5/26/2017
Sandra
Solon Springs
WI
5/26/2017
Ben
Lodi
WI
5/25/2017
Shannon
Amery
WI
5/25/2017
Marah
Stillwater
MN
5/25/2017
Marques
River Falls
WI
5/25/2017
Loren
New Richmond
WI
5/24/2017
William
Osceola
WI
5/24/2017
Debra
Cumberland
WI
5/24/2017
Juan
Oakdale
MN
5/23/2017
Sarah
Somerset
WI
5/23/2017
Karmen
Somerset
WI
5/23/2017
Mark
New Richmond
WI
5/23/2017
Larry
New Richmond 
WI
5/23/2017
Dennis
New Richmond
WI
5/23/2017
Robert
Star Prairie
WI
5/22/2017
Jack
Turtle Lake
WI
5/22/2017
Michael
Hudson
WI
5/22/2017
Jon
Deer Park
WI
5/20/2017
Jayson
Osceola
WI
5/20/2017
Christopher
New Richmond
WI
5/20/2017
Danyel
New Richmond
WI
5/20/2017
Daniel
Hudson
WI
5/20/2017
Andrea
New Richmond
WI
5/20/2017
Heather
Cumberland
WI
5/20/2017
Madisyn
Winona
MN
5/20/2017
Pat
New Richmond
WI
5/20/2017
Debra
Somerset
WI
5/19/2017
Adam
Spring Valley
WI
5/19/2017
Timothy
New Richmond
WI
5/19/2017
Jelaine
New Richmond
WI
5/19/2017
Dan
Somerset
WI
5/19/2017
Janell
Elmwood
WI
5/18/2017
Klaus
New Richmond
WI
5/18/2017
Jerry
Knapp
WI
5/18/2017
Gordy
Knapp
WI
5/18/2017
Jared
Osceola
WI
5/18/2017
Stephen
Clear Lake
WI
5/18/2017
Thomas
Hudson
WI
5/18/2017
Thomas
Star Prairie
WI
5/17/2017
Chad
White Bear Lake
MN
5/17/2017
Julie
Baldwin
WI
5/17/2017
Ruthann
Star Prairie
WI
5/17/2017
Brandon
Prior Lake
MN
5/16/2017
Andrea
New Richmond
WI
5/15/2017
Donna
Coon Rapids
MN
5/15/2017
Shannon
New Richmond
WI
5/15/2017
Chelsie
Roberts
WI
5/15/2017
Gene
Albany 
MN
5/15/2017
Dillan
Menomonie
WI
5/15/2017
David
Hudson
WI
5/15/2017
Donald
New Richmond
WI
5/13/2017
Mark
Deer Park
WI
5/13/2017
Abby
Star Prarie
WI
5/13/2017
Sharon
Roberts
WI
5/12/2017
Mitchell
Woodville
WI
5/12/2017
Gail
Deer Park
WI
5/12/2017
Genie
Hudson
WI
5/12/2017
Michael
Cushing
WI
5/12/2017
Tad
New Richmond
WI
5/12/2017
Kenneth
New Richmond
WI
5/12/2017
Jean
Emerald
WI
5/11/2017
James
New Richmond 
WI
5/11/2017
Caren
New Richmond
WI
5/11/2017
Dave
Washburn
WI
5/11/2017
Shawna
New Richmond
WI
5/11/2017
Joan
Houlton
WI
5/11/2017
Katherine
New Richmond
WI
5/11/2017
Linda
Comstock
WI
5/10/2017
Andrea
Little Canada
MN
5/10/2017
Patrick
Hudson
WI
5/10/2017
Susan
Fall Creek
WI
5/10/2017
Pat
Minneapolis
MN
5/10/2017
David
New Richmond
WI
5/10/2017
Andrew
Eau Claire
WI
5/9/2017
Mike
Hudson
WI
5/9/2017
James
Webster
WI
5/8/2017
Kevin
DYER
IN
5/8/2017
Thomas
Saint Paul
MN
5/8/2017
Linda
Woodbury
MN
5/8/2017
Austin
Menomonie
WI
5/8/2017
Mary
New Richmond
WI
5/6/2017
Val
Hudson
WI
5/5/2017
Laura
Hudson
WI
5/5/2017
Molly
Star Prarie
WI
5/5/2017
Edward
New Richmond
WI
5/4/2017
Mark
Breezy Point 
MN
5/4/2017
Roxie
New Richmond
WI
5/4/2017
Amanda
CLEAR LAKE
WI
5/4/2017
Melvin
Hudson
WI
5/3/2017
Christopher
New Richmond
WI
5/3/2017
Rachael
River Falls
WI
5/3/2017
John
Cumberland
WI
5/3/2017
Donelle
Hammond
WI
5/3/2017
Michael
Somerset
WI
5/2/2017
Cheryl
New Richmond
WI
5/2/2017
Nathan
Elko New Market
MN
5/2/2017
John
Fountain City
WI
5/1/2017
Nicholas
New Richmond
WI
5/1/2017
Janet
Amery
WI
5/1/2017
Shawn
New Richmond
WI
5/1/2017
Gregory
Centuria
WI
4/29/2017
Kimberly
Cameron
WI
4/29/2017
Susan
New Richmond
WI
4/29/2017
Patricia
River Falls
WI
4/29/2017
Joan
Cottage Grove
MN
4/29/2017
Jeff
New Richmond
WI
4/29/2017
Karen
St Pual 
MN
4/29/2017
Jeff
New Richmond
WI
4/28/2017
Kara
New Richmond 
WI
4/28/2017
Donald
Clayton
WI
4/28/2017
Randall
Porter
MN
4/28/2017
Phoebe
New Richmond
WI
4/27/2017
William
Chanhassen
MN
4/27/2017
Michael
Woodville
WI
4/27/2017
Frontier
New Richmond
WI
4/26/2017
Hartman
Hudson
WI
4/26/2017
Brian
Star Prairie
WI
4/26/2017
Donald
New Richmond
WI
4/26/2017
Duane
Blaine
MN
4/26/2017
Michael
Amery
WI
4/25/2017
Shannon
New Richmond
WI
4/25/2017
Kim
Woodbury
MN
4/24/2017
Corey
Chetek
WI
4/24/2017
Patrick
Clear Lake
WI
4/24/2017
Kelli
Menomonie
WI
4/24/2017
Darcy
Stillwater
MN
4/24/2017
Kelli
Menomonie
WI
4/24/2017
Catherine
New Richmond
WI
4/24/2017
Eric
Gordon
WI
4/24/2017
Richard
Maple Grove
MN
4/24/2017
Dennis
Chetek
WI
4/22/2017
Matthew
Somerset
WI
4/22/2017
Lisa
New Richmond
WI
4/22/2017
Nicholas
River Falls
WI
4/22/2017
Jay
Hudson
WI
4/22/2017
Lori
Turtle Lake
WI
4/22/2017
Emilie
Star Prairie
WI
4/22/2017
Peter
New Richmond
WI
4/22/2017
James
Osceola
WI
4/20/2017
Steven
River Falls
WI
4/20/2017
David
Cannon Falls
MN
4/20/2017
Bruce
Wausau
WI
4/20/2017
Pete
Ellsworth
WI
4/20/2017
Holly
New Richmond
WI
4/20/2017
Jerry
New Richmond
WI
4/19/2017
Frank
Osceola
WI
4/19/2017
Randy
Chippewa Falls
WI
4/19/2017
Lacey
New Richmond
WI
4/18/2017
Selena
Eveleth
MN
4/18/2017
Stephen
Bloomington
MN
4/18/2017
Dan
HUDSON
WI
4/17/2017
John
New Richmond
WI
4/17/2017
Devon
Hudson
WI
4/15/2017
Kenneth
New Richmond
WI
4/14/2017
Sandra
Hayward
WI
4/14/2017
Brandon
Chippewa Falls
WI
4/14/2017
Jay
St Paul Park
MN
4/14/2017
Kayla
Cambridge 
MN
4/14/2017
Harry
Hudson
WI
4/14/2017
Kyle
Ellsworth
WI
4/14/2017
Dan
New Richmond
WI
4/14/2017
Judy
New Richmond
WI
4/14/2017
Patsy
Somerset
WI
4/13/2017
John
Hudson
WI
4/13/2017
Timothy
Somerset
WI
4/13/2017
Dan
New Richmond
WI
4/12/2017
Tracy
Trego
WI
4/11/2017
Zachary
Forest Lake
MN
4/11/2017
Donald
Clear Lake
WI
4/11/2017
Paul
Clear Lake
WI
4/10/2017
Paul
Osceola
WI
4/10/2017
Jeffrey
Hammond
WI
4/10/2017
Jeffrey
Hammond
WI
4/10/2017
Janie
Waterville
MN
4/10/2017
Cynthia
Milltown
WI
4/8/2017
Mark
Hudson
WI
4/8/2017
Kevin
New Richmond
WI
4/8/2017
Heather
Elk River 
MN
4/8/2017
Doreen
St Croix Fls
WI
4/8/2017
Jamie
Centuria
WI
4/8/2017
Jake
New Richmond
WI
4/8/2017
Tim
Hammond
WI
4/7/2017
Kathryn
New Richmond
WI
4/7/2017
Ashley
New Richmond
WI
4/7/2017
Brad
Somerset
WI
4/6/2017
Robert
Roberts
WI
4/6/2017
Bridget
New Richmond
WI
4/6/2017
Jeffrey
New Richmond
WI
4/6/2017
Brian
New Richmond
WI
4/6/2017
Steven
Somerset
WI
4/5/2017
Loni
Clear Lake
WI
4/5/2017
Christina
Amery
WI
4/5/2017
Andrew
Hugo
MN
4/4/2017
Collin
Amery
WI
4/4/2017
Aaron
New Richmond
WI
4/4/2017
Michael
Luck
WI
4/3/2017
Bennett
Pepin
WI
4/3/2017
MaryAnn
Somerset
WI
4/3/2017
Amanda
Madsion
WI
4/3/2017
Eldred 
Amery
WI
4/1/2017
Samantha
New Richmond
WI
4/1/2017
Charles
Hudson
WI
4/1/2017
Cody
Baldwin
WI
4/1/2017
Marlene
New Richmond
WI
4/1/2017
Amy
Markesan
WI
4/1/2017
Cal
New Richmond
WI
4/1/2017
Ryan
New Richmond
WI
4/1/2017
Derek
River Falls
WI
3/31/2017
Scott
New Richmond
WI
3/31/2017
Steve
Amery
WI
3/31/2017
John
River Falls
WI
3/31/2017
Teresa
Roberts
WI
3/31/2017
Jacqueline
Clayton
WI
3/30/2017
Hailey
New Richmond
WI
3/29/2017
Gary
New Richmond
WI
3/29/2017
Travis
Cambridge
MN
3/29/2017
Robin
New Richmond
WI
3/28/2017
Sandra
Amery
WI
3/28/2017
Michael
Osceola
WI
3/28/2017
Michael
Somerset
WI
3/28/2017
Kelly
New Richmond
WI
3/27/2017
Jennifer
Star Prairie
WI
3/27/2017
Nickolas
Colfax
WI
3/25/2017
Laura
Spring Valley
WI
3/25/2017
Jason
Rice Lake
WI
3/25/2017
Peter
Rochester
MN
3/25/2017
Brady
River Falls
WI
3/25/2017
Darwin
New Richmond
WI
3/25/2017
Calvin
New Richmond
WI
3/25/2017
Judy
Amery 
WI
3/25/2017
Jesse
Hudson
WI
3/24/2017
Brian
Mazomanie
WI
3/24/2017
Michael
NEW RICHMOND
WI
3/24/2017
Ralph
Glenwood City
WI
3/24/2017
Duane
New Richmond
WI
3/24/2017
Terry
Boyceville 
WI
3/23/2017
David
Maplewood
MN
3/23/2017
Richard
Somerset
WI
3/23/2017
Jason
Brookfield
WI
3/22/2017
Daniel
New Richmond
WI
3/21/2017
Carol
Clear Lake
WI
3/21/2017
Fay
Clear Lake
WI
3/20/2017
Bradley
Turtle Lake
WI
3/20/2017
Peter
Roberts
WI
3/20/2017
Barbara
Cumberland 
WI
3/20/2017
Aaron
Eau Claire
WI
3/20/2017
Elizabeth
Deer Park
WI
3/20/2017
Ann
Ellsworth
WI
3/18/2017
Robert
Emerald
WI
3/18/2017
John
Clayton
WI
3/18/2017
Kayla
New Richmond
WI
3/18/2017
Charles
Grantsburg
WI
3/18/2017
Thomas
New Richmond
WI
3/17/2017
Darrin
Minong
WI
3/17/2017
Steven
New Richmond
WI
3/17/2017
Jessica
Clear Lake
WI
3/17/2017
Gary
Hudson
WI
3/17/2017
Tyler
Stillwater
MN
3/16/2017
Todd
Luck
WI
3/16/2017
Mark
Spooner
WI
3/16/2017
Jacob
New Richmond
WI
3/16/2017
Timothy
Hastings
MN
3/16/2017
Caren
NEW RICHMOND
WI
3/15/2017
John
Amery
WI
3/15/2017
Thomas
Menomonie
WI
3/15/2017
Katie
New Richmond
WI
3/15/2017
Scott
Eau Claire
WI
3/15/2017
Gregory
New Richmond
WI
3/14/2017
Eugene
Oakdale
MN
3/14/2017
Jon
Hudson
WI
3/14/2017
Warren
Star Prairie
WI
3/14/2017
Tessie
Chisago City
MN
3/14/2017
Otto
New Richmond
WI
3/14/2017
Dennis
Chetek
WI
3/13/2017
Sean
Eau Claire
WI
3/13/2017
Emma
New Richmond
WI
3/13/2017
Brady
Osceola
WI
3/13/2017
Paul
Boyceville
WI
3/13/2017
John
New Richmond
WI
3/13/2017
David
New Richmond
WI
3/13/2017
Norah
White Bear Lake
MN
3/13/2017
Tamie
Baldwin
WI
3/11/2017
Scott
Milltown
WI
3/11/2017
Sheri
Boyceville
WI
3/11/2017
Robert
Oakdale
MN
3/11/2017
John
Barronett
WI
3/11/2017
Courtney
Siren
WI
3/11/2017
Patricia
Somerset
WI
3/11/2017
William 
Robert
WI
3/11/2017
Thomas
Deer Park
WI
3/10/2017
Tom
Roberts
WI
3/10/2017
Mary
Hudson
WI
3/10/2017
Timothy
New Richmond
WI
3/10/2017
Peggy
Frederic
WI
3/9/2017
Beth
Hastings
MN
3/9/2017
Robert
Baldwin
WI
3/8/2017
Kyle
Maple
WI
3/7/2017
Mathew 
Somerset
WI
3/6/2017
Wade
New Richmond
WI
3/6/2017
Timothy
Osceola
WI
3/6/2017
Mark
North Saint Paul
MN
3/6/2017
Aaron
New Richmond
WI
3/6/2017
Mike
Star Prairie
WI
3/4/2017
Gary
New Richmond
WI
3/3/2017
Rhonda
Durand
WI
3/3/2017
Michael
Glenwood City
WI
3/3/2017
Dylan
North Saint Paul
MN
3/3/2017
Elaine
Ellsworth
WI
3/3/2017
Nathan
Rochester
MN
3/2/2017
Darrel
Osceola
WI
3/2/2017
Lenore ( Lori)
New Richmond
WI
3/2/2017
Jeremy
Eau Claire
WI
3/2/2017
Dale
Menomonie
WI
3/1/2017
Joshua
Amery
WI
2/28/2017
Sophia
New Richmond
WI
2/28/2017
Jeffrey
Dresser
WI
2/28/2017
Ines
Clear Lake
WI
2/28/2017
Gary
Amery
WI
2/28/2017
Peter
New Richmond 
WI
2/28/2017
Kevin
Amery
WI
2/28/2017
Charles
Hudson
WI
2/27/2017
Parker
Fridley
MN
2/27/2017
Bradley
BALSAM LAKE
WI
2/25/2017
Karen
Star Prairie
WI
2/25/2017
Steven
Star Prairie
WI
2/25/2017
Joseph
Clayton
WI
2/25/2017
Anthony
New Richmond
WI
2/25/2017
Rup
Little Canada
MN
2/25/2017
Jerry
White Bear Lake
MN
2/25/2017
Kaitlin
Richfield
MN
2/25/2017
Kyle
Gilman
WI
2/25/2017
Jessica
New Richmond
WI
2/24/2017
Lynn
New Richmond
WI
2/23/2017
Robert
Baldwin
WI
2/23/2017
Michael
Minneapolis
MN
2/23/2017
Brenda
Clayton
WI
2/22/2017
Gregory
St Paul
MN
2/22/2017
Joshua
Amery
WI
2/22/2017
David
Osceola
WI
2/22/2017
Jeffrey
NEW RICHMOND
WI
2/21/2017
Michael
Waverly
IA
2/21/2017
John
Hudson
WI
2/20/2017
Jessica
Clear Lake
WI
2/20/2017
Kevin
Spring Valley
WI
2/20/2017
Mark
Ashland
WI
2/20/2017
Tashauna
New Richmond
WI
2/20/2017
Mike
Star Prairie
WI
2/20/2017
David
Osceola
WI
2/20/2017
Bruce
Hammond
WI
2/20/2017
Robert
New Richmond
WI
2/18/2017
Randee
New Richmond
WI
2/18/2017
Monica
Dresser
WI
2/18/2017
Dustin
Osceola
WI
2/18/2017
Scott
Akeley
MN
2/18/2017
Jordan 
Amery
WI
2/18/2017
Joshua
Baldwin 
WI
2/18/2017
Bradley
Hastings
MN
2/18/2017
Jesse
Somerset
WI
2/18/2017
Mark
Stillwater
MN
2/18/2017
Zachary
Willmar
MN
2/17/2017
Timothy
Roberts
WI
2/17/2017
Michael
Deer Park
WI
2/17/2017
Gary
New Richmond
WI
2/17/2017
David
Menomonie
WI
2/17/2017
Jessie
Menomomie
WI
2/17/2017
Linda
Star Prairie
WI
2/17/2017
Trevor
Baldwin
WI
2/16/2017
Reese
Durand
WI
2/16/2017
Benjamin
Waconia
MN
2/16/2017
Mary Ann
Weyerhaeuser
WI
2/15/2017
Lori
NEW RICHMOND
WI
2/15/2017
Paul
Mendota Heights Dr
MN
2/14/2017
Tony
Duluth
MN
2/14/2017
Christopher
New Richmond
WI
2/14/2017
Lionel
Boyceville
WI
2/14/2017
Rachel
Somerset
WI
2/13/2017
Benjamin
New Richmond
WI
2/13/2017
Klb Insurance
Maplewood
MN
2/11/2017
Russell
Prescott
WI
2/11/2017
Chad
Clayton
WI
2/11/2017
Eric
Balsam Lake
WI
2/11/2017
Elizabeth
Balsam Lake
WI
2/11/2017
Christopher
Rice Lake
WI
2/11/2017
Steven
Emerald
WI
2/11/2017
Kevin
New Richmond 
WI
2/10/2017
Jennifer
Columbia Heights
MN
2/10/2017
Kathleen ( Kitty)
Stillwater
MN
2/10/2017
Paul
Woodbury
MN
2/10/2017
Kurt
Austin
MN
2/9/2017
Ed
New Richmond
WI
2/9/2017
Timothy
Somerset
WI
2/9/2017
Robert
Hudson
WI
2/9/2017
Isaac
Cromwell
MN
2/8/2017
Michael
Hammond
WI
2/8/2017
Terry
Lindstrom
MN
2/7/2017
Eric
Boyceville
WI
2/7/2017
Paul
New Richmond
WI
2/6/2017
Steven
New Richmond
WI
2/6/2017
Troy
Clayton
WI
2/6/2017
Shannon
Somerset
WI
2/6/2017
Melvin
New Richmond
WI
2/6/2017
John
Amery
WI
2/4/2017
John
Emerald
WI
2/4/2017
Leonard
Bloomer
WI
2/4/2017
James
New Richmond
WI
2/4/2017
Melissa
New Richmond
WI
2/4/2017
Rob
Dayton
MN
2/3/2017
Kevin
Spring Park
MN
2/3/2017
Patrick
Lakeland
MN
2/2/2017
David
Farmington
MN
2/2/2017
Tyler
R0berts
WI
2/2/2017
Lynn
Clear Lake 
WI
2/2/2017
Lennie
Coon Rapids
MN
2/2/2017
Jason
Junction City
WI
2/1/2017
Julie
Fargo
ND
2/1/2017
Larry
New Richmond
WI
1/31/2017
Matthew
Saint Michael
MN
1/31/2017
Charles
Balsam Lake
WI
1/31/2017
Doug
Ashland
WI
1/31/2017
Ron
Somerset 
WI
1/31/2017
Mary
Clear Lake
WI
1/31/2017
James
Oakdale
MN
1/31/2017
Gordon
Hammond
WI
1/31/2017
Dennis
Baldwin
WI
1/31/2017
Dave
Hudson
WI
1/30/2017
Laura
Roberts
WI
1/30/2017
Angela
Altoona
WI
1/30/2017
Ronald
Luck 
WI
1/30/2017
Melissa
New Richmond
WI
1/30/2017
Robert
Clear Lake
WI
1/28/2017
Ashley
New Richmond
WI
1/28/2017
Terry
Stacy
MN
1/28/2017
Alan
Amery
WI
1/28/2017
Chase
New Richmond 
WI
1/28/2017
Frank
Stillwater
MN
1/28/2017
Cathy
New Richmond
WI
1/28/2017
Jeffrey
New Richmond
WI
1/28/2017
Donald
Menomonie
WI
1/27/2017
Marissa
Amery 
WI
1/27/2017
Lucas
DRESSER
WI
1/27/2017
John
New Richmond
WI
1/26/2017
David
New Richmond
WI
1/26/2017
Matthew
New Richmond
WI
1/26/2017
Thomas
New Richmond
WI
1/26/2017
David
Walworth
WI
1/25/2017
Gerald
Osceola
WI
1/25/2017
Jim
Hudson
WI
1/25/2017
John
Somerset
WI
1/24/2017
Jayson
Northfield
MN
1/24/2017
John
New Richmond
WI
1/24/2017
Geralee
Osceola
WI
1/23/2017
Ryan
New Richmond
WI
1/23/2017
Scott
Laporte
MN
1/23/2017
Lamont
Deer Park
WI
1/23/2017
William
Cottage Grove
MN
1/21/2017
Carl
Saint Croix Falls
WI
1/21/2017
Todd
New Richmond
WI
1/21/2017
Cory
New Richmond
WI
1/21/2017
Glenn
New Richmond
WI
1/21/2017
Josh
Stratford
WI
1/20/2017
William 
Avella
PA
1/20/2017
Barry
Star Prairie
WI
1/20/2017
James
Grantsburg
WI
1/20/2017
Tamara
Dresser
WI
1/19/2017
Justin
Saint Croix Falls
WI
1/19/2017
James
New Richmond
WI
1/19/2017
Travis
Amery
WI
1/19/2017
Jeremy
Boyceville
WI
1/19/2017
Steffany
Sandstone
MN
1/19/2017
Kari
Deer Park
WI
1/18/2017
Lori
Colfax
WI
1/18/2017
Jeremy
Houlton
WI
1/18/2017
Leanne
Osceola
WI
1/17/2017
Thomas
Hudson
WI
1/16/2017
Brandon
Minneapolis
MN
1/16/2017
Jason
NEW RICHMOND
WI
1/16/2017
Steven
Baldwin
WI
1/16/2017
Darin
Forest Lake
MN
1/14/2017
Richard
Turtle Lake
WI
1/14/2017
Anthony
Clear Lake
WI
1/14/2017
James
Somerset
WI
1/14/2017
Todd
Menomonie
WI
1/13/2017
Patrick
New Richmond
WI
1/13/2017
Robert
Wausau
WI
1/12/2017
Scott
Amery
WI
1/12/2017
Christopher
New Richmond
WI
1/11/2017
Brian
Star Prairie
WI
1/9/2017
Ronald
New Richmond
WI
1/9/2017
Steven
Center City
MN
1/9/2017
Kim
Hudson
WI
1/7/2017
Morgan
1/7/2017
Chelsea
Hudson
WI
1/7/2017
Anthony
Hammond
WI
1/7/2017
Judy
Clear Lake
WI
1/7/2017
Randall
Emerald
WI
1/7/2017
Amy
OSCEOLA
WI
1/6/2017
Sally
Woodbury
MN
1/5/2017
Micheal
Woodbury
MN
1/4/2017
Timothy
Saint Croix Falls
WI
1/4/2017
Matt
Wheeler
WI
1/3/2017
Earl
New Richmond
WI
1/3/2017
Dennis
New Richmond
WI
1/3/2017
Adam
Clear Lake
WI
1/2/2017
Jacob
Amery
WI
1/2/2017
Trevor
Rice Lake
WI
1/2/2017
Christopher
Eau Claire
WI