The following is a brief history, starting with Joye L. Johnson, from whom this dealership got its name. While the Anderson family has been an integral part of the company since 1950 and owners since 1983, Joye's spirit, work ethic and customer service philosophy remains at the core of the company. Curt and Mick Anderson worked side by side with Joye for decades, leading growth and change that is vital to the company's existence while upholding its stable Operating Principles. 
Curt, Mick and Greg Anderson have ensured that Joye Johnson's legacy continues as Johnson Motors continues to be widely recognized and respected in it growing marketplace. Joye L. Johnson entered the auto business in 1915 when his father, J.P. Johnson, opened a garage in Star Prairie selling Maxwells and Studebakers. J.P. sent Joye to the Studebaker factory to get some knowledge of auto mechanics along with being a salesman. "I remember the day," said Joye, "when I went out in a cutter and sold three Studebakers in one day."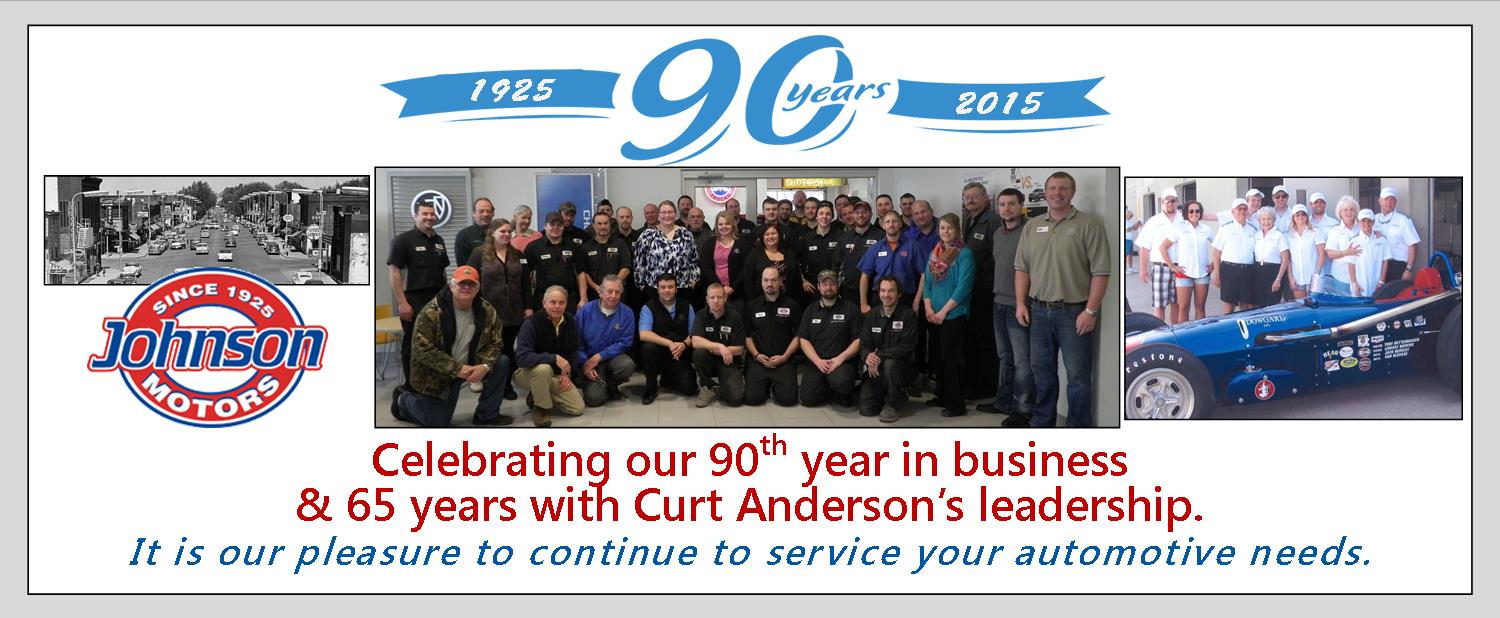 In the next years, the Johnsons also had garages in Glenwood City and Cylon. Following that, Joye sold Fords in Los Angeles. "I noticed at that time that the Chevrolet was coming out with a few refinements including longer springs, and I felt that Chevrolet was the car of the future." So Joye went back to New Richmond, stopping in Minneapolis on the way to get the Chevrolet dealership. When Joye got the dealership on March 25, 1925, he started out with the modest capital of $300. Selling from his home, the first year he sold 112 cars!
The company informed him the next year that he had to have a garage and provide repair service. So Joye moved into what was known as the LaVenture building in New Richmond. It had no back door, but had a hand-moved turntable for turning the cars around. Those were golden days for the car dealer. Joye would drive up to Clear Lake, sometimes twice a day, and come home on the "Twilight Limited" train.
In 1929, Joye bought the old New Richmond Opera House on Main Street (now Wells Electric). He dug a basement under it with a team of horses and made a modern garage out of it. He made his way through the Great Depression, and a couple of recessions and World War II when few cars were available. "When I didn't have cars to sell, I sold tires. I sold three carloads of tires one time when I didn't have cars." In 1933, Joye added Buick to his present dealership and shortly after, Cadillac (discontinued in 1951).
In 1950 Curtiss Anderson started working for Joye as a mechanic. A hard-working young man, by 1963 Curt had worked his way into sales and by 1968 was General Manager for Joye with approximately 30 employees. It was at this time that the need for additional elbow-room was felt. As Curt recalls, "The customers had no place to park, competition was fierce, we needed to make room for our customers."
In 1969, Joye and Curt visited with one of the local farmers and purchased 3 acres of then corn field for the new Johnson Motor Sales location. In 1970, at the age of 74, Joye with Curt's assistance built the new facility, joining Polfus Implement as the first businesses at the northern edge of New Richmond. Since that time, 2 additional acres have been purchased to provide the service department additional expansion to the south, twice. The show room had 30 feet added to the west, and the office area was completely remodeled in 1995.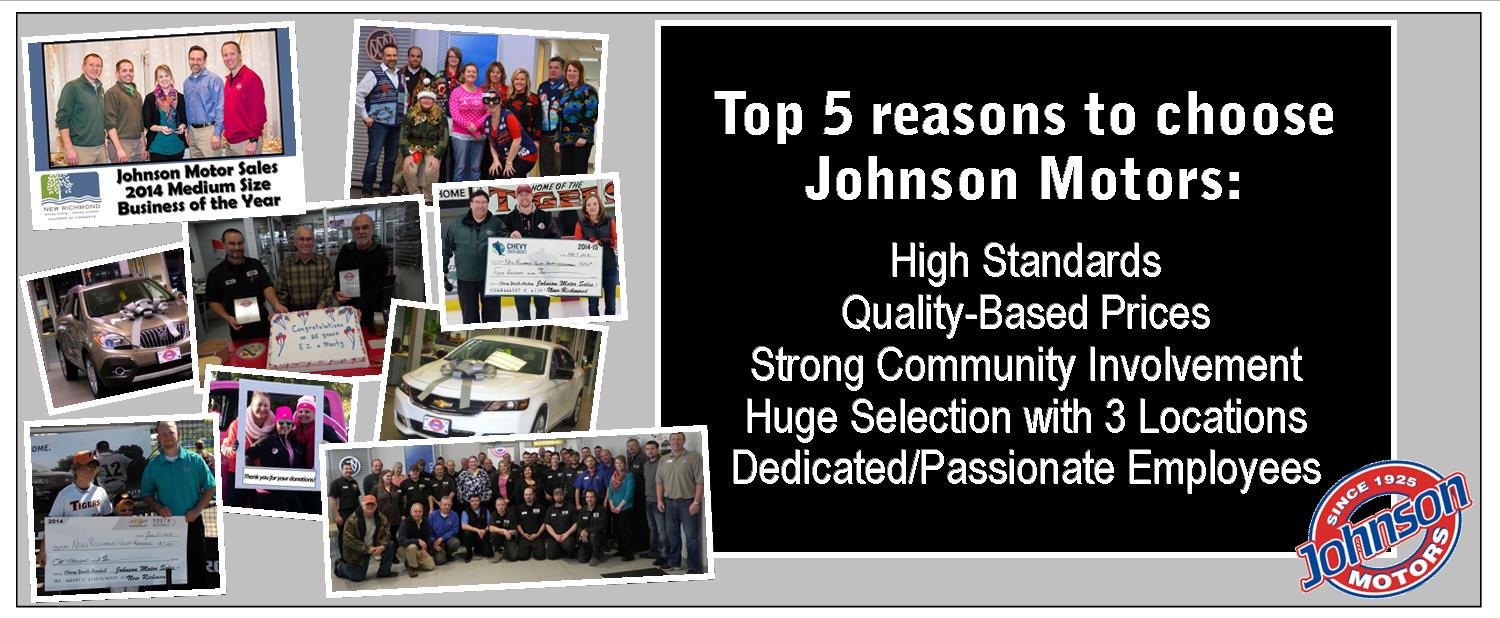 In 1971, Klayt Evans decided to sell his Oldsmobile dealership, then located at the intersection of N. Fourth St. and N. Knowles Ave. in New Richmond. Johnson Motors not only purchased the Oldsmobile franchise, but put Klayt to work with them as well. Shortly after, the Pontiac franchise was obtained from Orvie Wert's dealership which was located on West 2nd Street. It wasn't until 1983 that Curt Anderson officially purchased the dealership from Joye. With the support of his wife Elaine and children, Curt has been blessed with over 55 successful years in the auto industry. Curt and Elaine have three children: Michael (Mick), Michele (Hermansen) and Marin (Hansch). Curt maintains an active management and directorship role in the Company, and continues to be among the first to start each business day.
When asked what has contributed to his success, Curt responded with "starting from the bottom, washing cars and servicing them gave me product knowledge and the rest comes from establishing a customer base for referrals and repeat business. Without that you won't make it. It's your present customers that give you your future ones." In 1970 Mick started working with his father and like him got a feel for all aspects of the dealership before getting into sales and then becoming General Manager. Mick succeeded Curt as Dealer when he began purchasing the dealership in 2002. Mick and his wife Connie are the parents of five children; Chris, Greg, Chad, Stephanie, and Scott.
Come visit our family owned and operated car dealership for your next Chevrolet, Buick, GMC, or Ford car, truck or SUV.